Impact 11, «Me and my Glocal», Symposium, 27-30 October 2011 – Zollverein, DE.
An interactive symposium in 3 episodes in 3 days
IMPACT is a flexible series of exchange orientated events aimed at artists, students, academics and journalists from the fields of dance, theatre and media.In the form of interactive symposiums, the events in 2004, 2005 and 2007 introduced the different working methods and practices of three artists, or groups of artists, under the headings ›Strategies and scope of theatrical practices‹, ›Tracing Translation‹ and ›Alles nur Tarnung / Nothing but disguise‹. Each day's agenda was devised and led by the invited artists and opened the way f or participants to discuss, reflect and experiment together.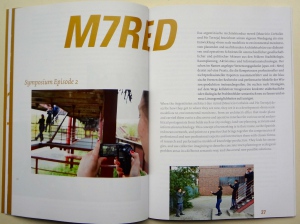 «m7red quite rightly describe their strategy as pragmatic. Their key question, how can something that already exists be viewed in such a way that something new will come out of it, is not a utopian one, but one that challenges reality by means of the imagination. Their aim is to test its vi ability from the perspective of a potential reality». go to pdf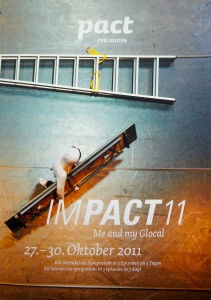 View this post in m7red network